Z
E
N
°
B
O
O
K
S
→
All Reviewed
→
All Recommended

NAMASTE°GREETINGS!


Welcome to the Zen Guide, a simple site that provides basic principles of Buddhism, its practices including a guide to zazen, its related media including on-line text of books, sutras, koans, and an online community forum to foster discussions, get help, and meet others who are interested in Buddhism. There is of course, a brief history of Buddhism, as well as a user-submitted searchable directory of Zen/Buddhism groups.
F
O
R
U
M
Latest posting in the forum.
Jun.06.2023 @ 05:20PM ET
What I'm Seeing
→
Go to Dicussion Forum
Z
E
N
°
R
A
N
D
O
M

K
O
A
N


A random short story for you to ponder.

One day when Fa-yen Wen-i (885-958), one of the well known Chinese Ch'an masters,
has ascended his seat. From the assembly, a monk came out and asked:
-What is one drop of water from the fount of Tsao-ch'i?
Fa-yen repied:
-It's one drop of water from the fount of Tsao-ch'i.
The monk was dumbfound and withdrewn.
At the time, Te-shao, who was also in the assembly, was suddenly greatly awakened when heard
those words. He then presented Fa-yen the following verse:


"The summit of the peak of the mystic passover
Is not the human world;
Outside the mind, there are no things-
The eyes are filled with blue mountains."


Fa-yen gave him his seal and approval, and said: "This one verse alone can sustain my school.
In the future, kings will honor you. I am not equal to you."


Later, Te-shao appeared in the world as one of Fa-yen's successors, and was made as
a National Teacher by a king who had been a prince-student of Te-shao.



.........
Tsao-ch'i: referred where the Sith Patriarch Hui-neng resided, here meant Hui-neng's Ch'an.
Z
E
N
°
A
R
T


Free zen wallpapers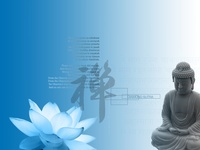 For original zenguide.com digital art wallpapers, visit the art download page.