Z
E
N
°
B
O
O
K
S
→
All Reviewed
→
All Recommended

NAMASTE°GREETINGS!


Welcome to the Zen Guide, a simple site that provides basic principles of Buddhism, its practices including a guide to zazen, its related media including on-line text of books, sutras, koans, and an online community forum to foster discussions, get help, and meet others who are interested in Buddhism. There is of course, a brief history of Buddhism, as well as a user-submitted searchable directory of Zen/Buddhism groups.
F
O
R
U
M
Latest posting in the forum.
Sep.18.2019 @ 04:39PM ET
I Would Like To Ask For Help. And Some Advice. Thank You.
→
Go to Dicussion Forum
Z
E
N
°
R
A
N
D
O
M

K
O
A
N


A random short story for you to ponder.

To cling to onself as Buddha, oneself as Ch'an or the way,
making that an understanding, is called clinging to the inward view.



Attainment by causes and conditions, practice and realization,
making this an understanding, is called clinging to the outward view.



Master Pao-chi said, "The inward view and the outward view are both mistaken."



Ch'an master Pai-chang
Z
E
N
°
A
R
T


Free zen wallpapers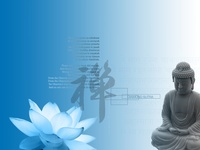 For original zenguide.com digital art wallpapers, visit the art download page.