Z
E
N
°
B
O
O
K
S
→
All Reviewed
→
All Recommended

NAMASTE°GREETINGS!


Welcome to the Zen Guide, a simple site that provides basic principles of Buddhism, its practices including a guide to zazen, its related media including on-line text of books, sutras, koans, and an online community forum to foster discussions, get help, and meet others who are interested in Buddhism. There is of course, a brief history of Buddhism, as well as a user-submitted searchable directory of Zen/Buddhism groups.
F
O
R
U
M
Latest posting in the forum.
Nov.27.2014 @ 06:57AM ET
Lotus
→
Go to Dicussion Forum
Z
E
N
°
R
S
S


24-hour zen and buddhism news from around the world and zenguide.com contents in RSS/XML format.

Syndicated zen and buddhism news from sources around the internet. Check it out in the new resources' 24-hour news section.

Add zenguide.com contents to your site! Many parts of the zenguide.com are now available via RSS/XML feeds so you can display the information in any way you like.



MAKE A DONATION

+

Redcross Relief Efforts

+

Worldwide Relief Efforts
Z
E
N
°
N
E
W
S

A glance of World's tallest Amitabha Buddha in E. China -

The Donglin Buddha statue is seen at the Donglin Temple in Xingzi County of Jiujiang City, east China's Jiangxi Province on Nov.19, 2014. The bronze statue of Amitabha Buddha, which is 48...
→More News
Z
E
N
°
R
A
N
D
O
M

K
O
A
N


A random short story for you to ponder.

One day when Fa-yen Wen-i (885-958), one of the well known Chinese Ch'an masters,
has ascended his seat. From the assembly, a monk came out and asked:
-What is one drop of water from the fount of Tsao-ch'i?
Fa-yen repied:
-It's one drop of water from the fount of Tsao-ch'i.
The monk was dumbfound and withdrewn.
At the time, Te-shao, who was also in the assembly, was suddenly greatly awakened when heard
those words. He then presented Fa-yen the following verse:


"The summit of the peak of the mystic passover
Is not the human world;
Outside the mind, there are no things-
The eyes are filled with blue mountains."


Fa-yen gave him his seal and approval, and said: "This one verse alone can sustain my school.
In the future, kings will honor you. I am not equal to you."


Later, Te-shao appeared in the world as one of Fa-yen's successors, and was made as
a National Teacher by a king who had been a prince-student of Te-shao.



.........
Tsao-ch'i: referred where the Sith Patriarch Hui-neng resided, here meant Hui-neng's Ch'an.
Z
E
N
°
A
R
T


Free zen wallpapers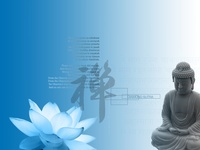 For original zenguide.com digital art wallpapers, visit the art download page.