Z
E
N
°
B
O
O
K
S
→
All Reviewed
→
All Recommended

NAMASTE°GREETINGS!


Welcome to the Zen Guide, a simple site that provides basic principles of Buddhism, its practices including a guide to zazen, its related media including on-line text of books, sutras, koans, and an online community forum to foster discussions, get help, and meet others who are interested in Buddhism. There is of course, a brief history of Buddhism, as well as a user-submitted searchable directory of Zen/Buddhism groups.
F
O
R
U
M
Latest posting in the forum.
Sep.29.2016 @ 06:05AM ET
Enemy
→
Go to Dicussion Forum
Z
E
N
°
R
A
N
D
O
M

K
O
A
N


A random short story for you to ponder.

Posted on Aug.08.2009 @ 10:58PM EDT by chontri


What, monks, is the world? The eye and shapes, the ear and sounds,
the nose and smells, the tongue and tastes, the body and tactile objects,
the mind and mental objects - these form the world as we know it.



When an eye and a shape are there, then the consciousness of seeing arises.
From this consciousness of seeing comes sensation; that which is sensed is
thought over; that which is thought over is projected outward as the external world.



So I declare that in this six-foot-long body with its perceptions and thinking lies the world,
the beginning of the world, the ending of the world, and the way to the ending of the world.



From "Majjhima Nikaya" of the Buddha
Edited by Anne Bancroft
Z
E
N
°
A
R
T


Free zen wallpapers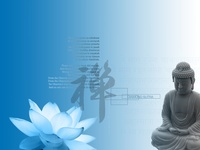 For original zenguide.com digital art wallpapers, visit the art download page.